Our medical institutions partners
Achieve clinical excellence with leading prenatal organizations
The Necker-Enfants Malades University Hospital
Necker was created in 1802, the world's first establishment dedicated to children. It is a highly regarded hospital and research center located in Paris. Its facilities cater to the needs of children, and its research center is dedicated to important medical discoveries.
Necker has a long-standing reputation for excellence in the medical field and is recognized for their commitment to advancing medicine, improving patient care, and innovating new methods that can benefit people worldwide.
Our commercial partners
Amplify Maternal Care Access Worldwide
With our efficient distribution network, we ensure that Sonio platform is available all over the world. And, so empower healthcare providers with the latest technology. We are aiming to improve patient outcomes globally.
MFine was founded in 2017 with the strong conviction that technology can transform healthcare consumption, enabling better health for all. By applying AI and leveraging massive mobile phone adoption, they are bringing care to the fingertips of millions of people.
Their on-demand, digital healthcare platform makes accessing high-quality healthcare timely and convenient.
Manager Systems in Brazil
Since its creation in 1988, Manager Systems has had great ambitions, such as the mission to see each Medical Clinic in Brazil grow and be profitable.
With the evolution of means and devices, the rhythm does not stop: their focus is to deliver quality in the management of medical services to practitioners and patients anywhere in Brazil.
Dynamic Medical Engineering Company in Nigeria
Dynamic Medical's mission: improve women's and children's health by promoting access and quality of care through technological innovation, medical expertise, and collective intelligence.
Mr. Raymond Okosun, General Manager, is running a laboratory for newborn screening, non-invasive prenatal screening, and maternal and risk assessments in pregnancy.
Established in 2004, AstriMed's paramount objective strive to deliver products and services of the highest quality for Health Systems.
They have dedicated themselves to the marketing and support of medical software and equipment. Their expertise extends to catering to a diverse range of healthcare establishments, including hospitals, clinics, and individual practitioners.
Our technical partners
Lead the AI Revolution with Pioneers
We share the passion for discovering the potential of AI to create a brighter future for maternal health. École Polytechnique
Globally renowned, École Polytechnique excels in science, engineering, and research. It shapes technology, science, and economics through diverse programs and historic achievements. Prairie
Prairie is a research institute and innovation center, driving AI and machine learning progress. It unites experts to reshape industries through pioneering projects. Deeptech Founders
Deeptech Founders supports visionary entrepreneurs in AI, biotech, clean energy, and more. They offer mentorship, funding, and networking opportunities.
Ultrasound manufacturer partners
Foster Collaborative Excellence in Ultrasound Innovation
Samsung
We collaborate with leading ultrasound machine manufacturers. Our partnership combines our medical imaging expertise with their advanced hardware and engineering, driving innovation and elevating patient care.
Samsung is committed to creating a new future for healthcare professionals and patients. By integrating its industry-leading skills in display, computing, telephony and electronics, their vision is to provide diagnostic confidence, productive solutions and optimized workflow for the customers.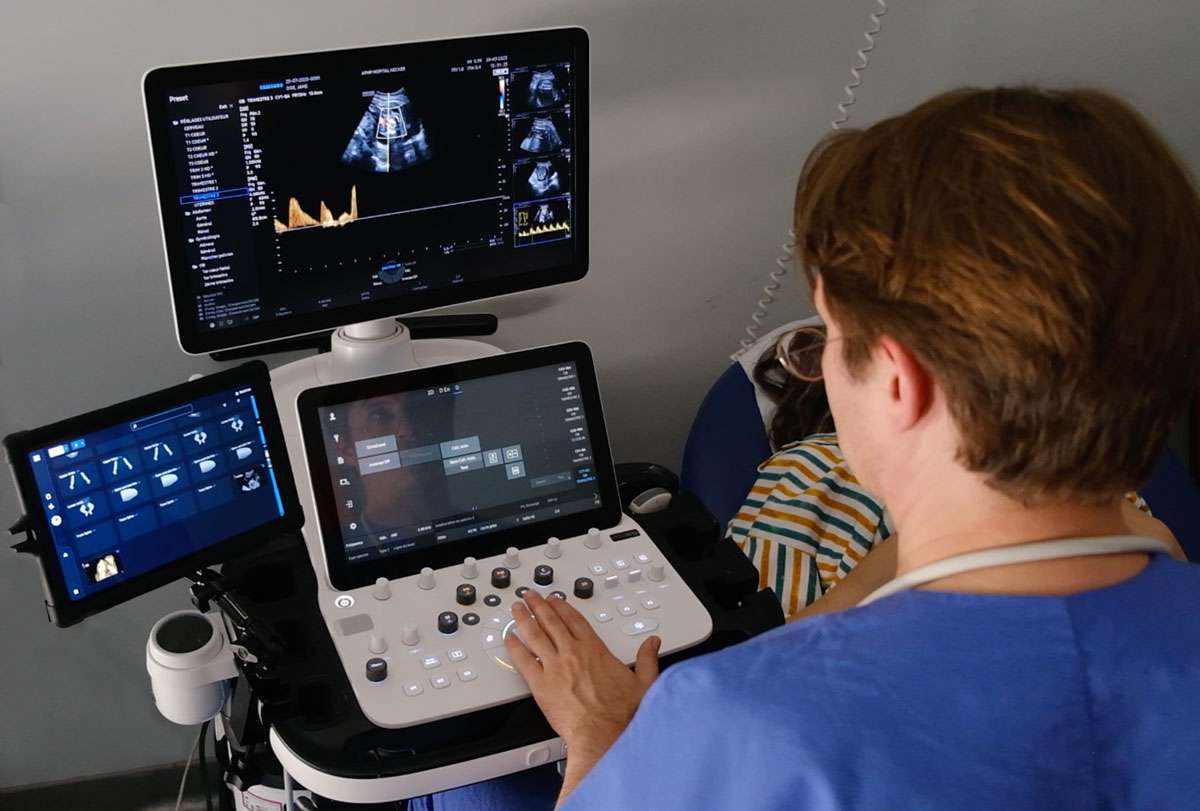 Partner with Sonio to Revolutionize Maternal Care globally