Sonio is a state-of-the-art AI¹ Platform for Ultrasound
Empower your ultrasound practitioners and experts with a robust, intuitive and easy-to-use platform. Improve efficiency, quality assurance and clinical excellence in the patient's pregnancy journey.
1AI capabilities are brought through our MDR-CE marked Sonio Expert product.
Simplify the patient journey and prepare ultrasound exams more efficiently with Sonio
Have patients fill out medical history on the secure Patient App. Then, the ultrasound specialist can:
See the most important patient information at first glance, customized for their practice
Focus on the critical views to better prepare the examination
Leverage dynamic protocols based on the patient's medical history
Perform comprehensive prenatal ultrasound exams
With Sonio, the ultrasound practitioner can:
Ensure all images have been captured
Extract images from clips
Label views and set images in a standardised order, simplifying the review process
Share clips and images with patients instantly
Better diagnose fetal anomalies and associated syndromes
The ultrasound expert is assisted by Sonio Expert to:
Combine ultrasound visible signs with medical history and risk factors
Optimize prenatal diagnostic performances
Integrate genomics data
Facilitate the preparation of multidisciplinary meetings
Read remotely anytime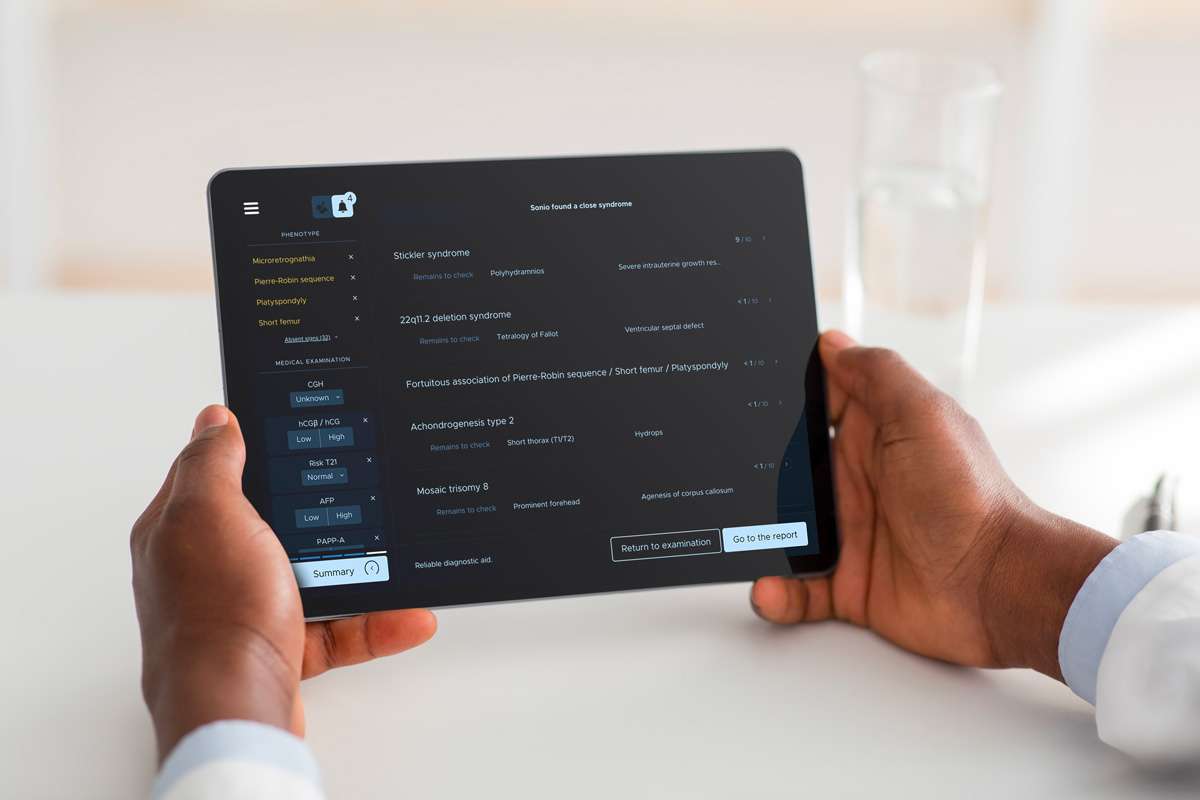 Empower your prenatal teams
With Sonio, you can make sure to:
Identify areas for improvement to establish personalized training plans
Improve the collaboration of their team and the patient care
Enhance patient satisfaction
Empower your clinical and IT teams with state-of-the-art technology for obstetrics reporting

With Sonio, you are able to:
Provide easy-to-use secured solution (HDS, EU-GDPR, SOC2 pending…)
Deploy flexible infrastructure (Sonio Cloud, private Cloud or on premise)
Easily install, maintain and update
Deliver the golden standard in practice management to their Women's Health teams
Sonio is adapted for any Women's Health practice
AI built by Collective Intelligence Scientific Advisory Board
Imagined and validated by world-renowned fetal ultrasound experts. Data Scientists
Designed and trained by best-in-class engineers based on up-to-date & verified clinical knowledge.
Ready to take the next step with Sonio?

Tell us a bit more so the right person can reach out faster.